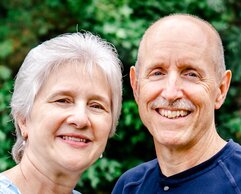 Jonathan & Rondalyn Merki were both born to Nazarene Missionaries in the Republic of South Africa. After graduating high school there, both attended college in the United States, and upon college graduation, Jonathan completed his Masters of Divinity in Kansas City, Missouri.
Their first pastorate was in Jersey Shore, Pennsylvania, where Jonathan was mentored in vital community involvement in pastoral ministry. Moving to Millville four years later, the Millville Nazarenes encouraged ongoing community involvement and service. Rondalyn has made her own community contribution as an elementary school educator in addition to service in and through Millville Church of the Nazarene.
The Merkis have two children. Their daughter, Hannah, is an educator and is married to Ken Varner who serves in law enforcement. Ken and Hannah have a daughter, Corynne, the joy and delight of Mommom and Poppop. Their son, Jeremy, is an airline pilot and was married in 2020 to Danielle, a personal care provider. Jeremy served in the Navy for 6 years.
Jonathan has had the privilege of serving the Millville Church of the Nazarene since December of 1991. By God's grace, the congregation has grown and was able to purchase land and build a new facility in 2010. Keeping an outward focus in mission, the congregation hopes to add a building wing soon.
In addition to serving the local church, Jonathan serves as the Senior Chaplain of the Millville Police Department, a chaplain for the Millville Fire Department, co-leader of the Ministerial Fellowship of Millville and is involved in the Chamber of Commerce. His District responsibilities for the Philadelphia District Church of the Nazarene include membership on the District Board of Ministries and leading the District Prayer Ministries.